Case Study
FEEDING THE FURBY FAD
Once upon a time a middle-aged computer programmer called David Hampton quit the city rat race and moved to a log cabin in an American national park. In the cabin he began to think and one day he remembered the day when he visited a toy trade fair and recalls how dull the computerized toys were. 'I can do better than that!' he thought.
Encouraged by his two young sons, he began to design what is effectively a pet, but a pet that would not die; similar to the ubiquitous Tamagotchi in some respects, but otherwise quite different. For one thing the face and body of his original designs resembled the owls which he saw swooping through the forest. However, the key to the new design is the complex system of electronics contained within the furry creature.
Some months later Hampton approached Tiger Toys, a dynamic young Midwest company, known to take calculated risks with new products. Hampton found a warm reception at Tiger and passed over his invention, the 'Furby' to the development team at Tiger Toys in return for a lucrative contract. While Tiger was a small company, the giant Hasbro, one of the two biggest toy companies in the world, owned it.
The strategy for marketing Furbies was developed soon after Hampton's visit to Tiger Toys. In February 1998 the Furby was first unveiled at the prestigious New York Toy Fair, where toy buyers gather for a preview of what manufacturers will be offering for the high-selling products of the next twelve months. At that time the Furby was available only in a non-working form, as the company had not had the time fully to develop the complex electronics that made the toy work and which made it 'cute'. Despite this, buyers were impressed by what they saw, and on the basis of their initial orders Tiger worked out how many to make at its factories in China to supply the US, Canada and the UK. By March 1998 it decided that the UK market would be covered adequately by 350,000 Furbies. During the summer months, while schoolchildren in the UK played with the latest 'cool' toy, the yo-yo, engineers were working hard at perfecting the electronics of the Furby. It was absolutely essential that the electronics of each and every Furby sold should work perfectly, or there would have been serious consequences for the image of the company which made it. Toys reaching the top sales rankings often remain in that position only while the craze lasts, which may only be for a year or two (see Table 8.6).
It was not until August 1998 that the Furby went into production, because of the time taken to ensure that the electronics were up to standard. By September production was stepped up, with more factories being commissioned to cope with the escalating number of orders. By October the company closed its order books for the US and the UK, as orders far exceeded production capacity.
The consumer advertising campaign for the Furby started in the UK on 19 October 1998. A series of thirty-second commercials were run on breakfast-time television shows, particularly on channels popular with young children, such as the cartoon network.
Additionally, a full media relations campaign was planned, with a range of celebrity stunts and product placements on high-rating shows such as soap operas and product reviews on
Save your time - order a paper!
Get your paper written from scratch within the tight deadline. Our service is a reliable solution to all your troubles. Place an order on any task and we will take care of it. You won't have to worry about the quality and deadlines
Order Paper Now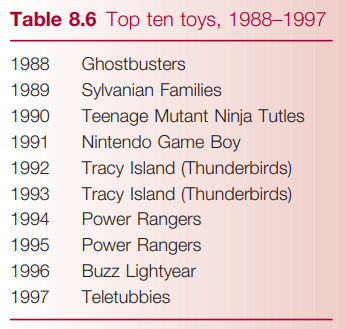 television, radio and in newspapers. The company also gave away some Furbies to television and radio stations to be used as prizes in competitions. The intention was to obtain maximum exposure for the Furby on shows with high children and parent appeal.
By this time, shops throughout the UK began to receive their first deliveries of the first half of the 350,000 Furbies that had been allocated. Most were sold out within a few hours. Then calls began to flood in from parents who were desperate to find a Furby for their child. Argos, one major retailer, reported receiving over 25,000 telephone calls requesting information about the next batch of Furbies, by late November 1998. The situation for smaller toyshops became nightmarish, as parents flooded them with requests for information about the toys. When the second batch of Furbies arrived, parents queued for hours to obtain one so that they could proudly give it to their child as a present for Christmas.
Meanwhile, somewhere else, frantic preparations were being made to prepare the next toy sensation associated with the new Star Wars epic, episode 1, The Phantom Menace.
Follow-on to Furby
While Furby continues to be sold and as at December was being sold in toy sections of prestigious department stores such as Jenner's, Edinburgh, its inventors have been developing the precursor to a range of robotic dinosaurs. In February 2006 Ugobe, based in San Francisco Bay and the co-inventor of Furby, together with its partner Sony, introduced its latest new toy, Pleo, at the Demo 2006 exhibition in Arizona. It will go on sale to the public in autumn 2006 for around $200 (£112). Pleo is a lifelike dinosaur robot that has fluid movement and sensors to stop it walking into walls and falling off edges. It has been developed by co-creator Caleb Chun and a team of biologists, animators, robotics experts and programmers, and is the first of a range of 'designer life forms'. According to Bob Christopher, Ugobe chief executive, sophisticated software and artificial intelligence have been used to enable Pleo to 'walk fluidly and balance itself and not just walk like a tin man, while at the same time being able to make emotive gestures'. The intention is that these designer robots will interact with one another and be the base of a new kind of game between light sabre-wielding robots on the tabletop rather than the traditional computer-based games. It will be interesting to see whether this range of robotics will be as successful as the Furby fad, which has lasted longer than might have been expected when ten years on it is reaching its mature stage of the NPD cycle.
"Looking for a Similar Assignment? Get Expert Help at an Amazing Discount!"
https://besttutorshelp.com/wp-content/uploads/2021/06/logoBTH-300x60.png
0
0
admin
https://besttutorshelp.com/wp-content/uploads/2021/06/logoBTH-300x60.png
admin
2022-11-01 06:28:41
2022-11-01 06:28:41
dolution